Welding Methods
... at Steel- / Ship- Construction
Special welding patterns are available for all seam forms and applications.
All parameters are saved in up to 20 separate programs and the adaptation
of different circumstances is made easier. Recurring works simply occur
with quite tested, optimum settings.

V-shape Seam with Pattern 3

or 5


All welding parameters can be adjusted in
steps by 1 %. The weaver amplitude should
be as much as needed to reach both edges
at least with half thickness of wire.


At V-shape seam with space, the torch
should be mounted vertical or slightly
backwards.

Corner

with Pattern 4

or 3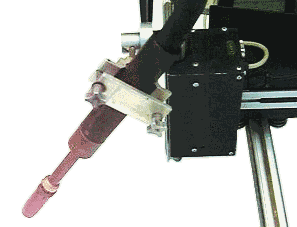 Surfacing with Pattern 1

or 2

The surfacing is comparable like with the welding methods at railway welds.
To get a better connection and overlap to the previous welded layer, the drive speed
at one side can be reduced.
The remote pendant control RD100 delivers all necessary signals and works at up
to 99 layers automatically.


... at Railway
For standard surfacing
...for hard facing
...with multiple areas
| | | | |
| --- | --- | --- | --- |
| | Welding-Sequences | | |
... Joint

welding





30 different

rail

types

selectable




and easily expandable.





Automatic

welding

sequences