RD1200-B / RD600 Modular Welding Systems with surface scanning
... for steel construction / shipbuilding / track building
Fully automatic work at all seam forms and faces
Contact-free measurement process by Laser-triangulation
Double-Computer-System for real-time calculation and full picture analysis
Flexible assembly possibilities by angle adjustment and linear guiding with t-grooves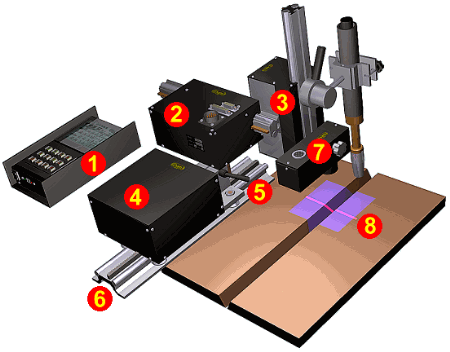 RD1200-B System-Overview

1. Remote Pendant with main control
2. Weaver with sensor analysis
3. Distance support
4. Releasable drive unit
5. Assembly block for angle adjustment
6. Drive rail, up to 30-metre length
7. Full figure sensor with Laser-Triangulation
8. Camera field of vision and laser line



Because of the full-picture analysis with
Laser-Triangulation, any different
surfaces and seam forms can be worked out.
Seam position, seam width and seam filling,
up to the last layer, will be considered.

Scanning of any faces

By the analysis of the surface, e.g. position and width of wear down areas can be used for the automatic setup of position and Teach-In-Points. All inputs occur automatically, only the zero point has to be set by hand.
... and any forms of seam

The sensor analysis continuously measures, on a real-time basis, the seam form, seam state and seam position. In the main control of the hand remote pendant, all measuring data are evaluated constantly. At not symmetrical layers, the torch position can be adjusted around +-20 mm. Other manual adjustment possibilities, with hand-wheels and bars, are not necessary.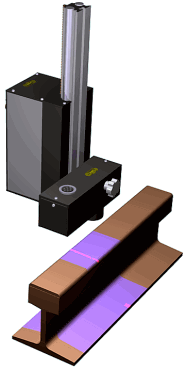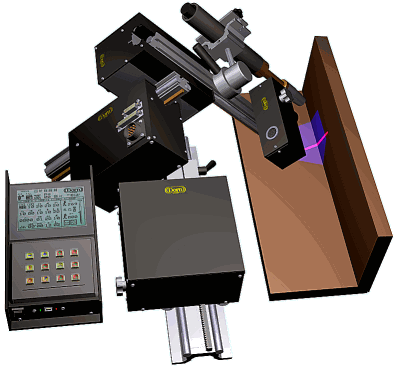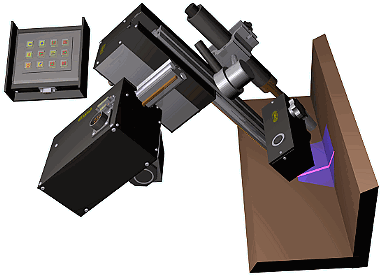 RD600 with Laser-Triangulation

The system can be used as extension of existing driving carriages or simple tractors. All automatic basic functions for positioning of the torch are available.
For the postregulation and adjustment, a small remote pendant control, which needs no screen, is used. Amplitude width, amplitude speed and dwell times at sides are set by plus / minus keys and are saved constantly.
For control of a drive unit, to create burn-in points or step operation, two outputs are available. The drive can be stopped at side-position, or during the weaver movement.
The system completely works independently and only needs a power supply with +-12 VDC / 50 W. The electricity supply and connection with the drive, occurs by a 9-pole screw-able plug connector. Instructions how to control a driving carriage will be suggested, customized specific features can be taken into consideration with low expenditure.