25 Pin D-Sub
screw able Plug Connector

Touch-Screen
with removeable acrylic glass plate as protection against welding spatter. Easy touch adjustment at internal use.

Keyboard
with protection against water and dust by seal for every key.

ON/OFF Switch
for remoted switch off power supply.



Aluminium Housing
as electromagnetic shield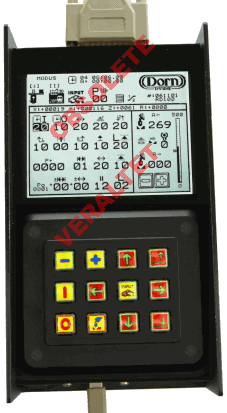 USB-Interface
compatible with all PC's for easy transfer of welding data or special program. Stand-Alone-Use for 4 hours with internal rechargeable Battery.

RD 100 4-Axis-Controller for Linear Movements
Newest generation 8-Bit Computer for real time adjustment of all welding parameters. Auto-Teach-In function for all positioning coordinates. The graphical display shows all welding parameters and input is done very easy by Touch-Screen or by a 12-time keyboard. Speeds, distances, dwell times, amplitude… can be adjusted in steps by 1 %. For repeated works, all welding parameters are memorized permanently. All calculations and adjustments are done automatically in the background and the welder's support is optimized.

Special Features
Real 4-Axis-Control for versatile works with one distance support and one rotary support, or two distance supports and two-gun welding.

Corner welds with two gun at stiffener plates and long distance welds up to 30 meter.
Surfacing with two gun at big plates, up to 99 layers with signal to portal and signal for cleaning at reverse drive.
Joint welding at rails with rotary support and 30 choose able types of rails.
Cutting with rotary support for creating a V-shape seam and later welding with same coordinates. Up to 1200 points are supported, straight parts between points will be interpolated.

Basic Functions
Indicator for working and welding time for easier calculation of working costs. Control of 4 motor decoders with positioning and speed adjustment, switch off at errors. Indicator for welding power of two gun at use of arc controls. Supports all needed signals for 4 motor controls, two gun and additional functions. All welding functions, start/stop dwell times, lift off ... are optimized.

At training time, the optimized welding parameters for all needed works will be found out and memorized. For future work, up to 21 programs are available. Even the welder wants to use different wire, only small adjustments are needed. The Remote Pendant Control supports all adjustments while working, adaptations of positioning coordinates are slowed down, to get an equable welding.

RD 100E (Evolution)
- handily, lightweight, versatile.

All functions of the standard remote control RD100 are integrated.


Differences and features
Integrated Chip-Card slot for data exchange between devices (without PC) and storage
of personal weld data, Self-Test and Quality-Management with stored protocols
for later evaluation.




Auto-Start from chip-card, for special programs or simplified operating menu.




Reduced size of only 180*106*50 mm (RD100: 220*126*60 mm).
Lower weight of only 800 g (RD100: 1200 g).

Free Software-Update and unlimited development possibilities.
Standard RS232 (+-12 Volts) serial interface for data exchange between two
devices (without PC) and standard USB port for data exchange with PC.
Option: Mobile, wireless data transfer to your mobile phone.

Double arithmetic power for full picture analysis on a real-time basis.

No special computer knowledge is necessary.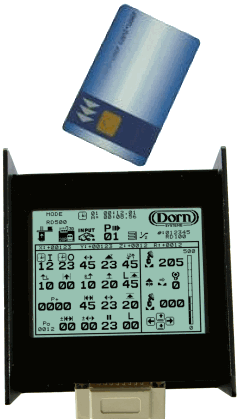 RD 100T - Remote Pendant with Touch-Screen



Large display (100*80mm) with intuitive keyboard fade in.

Resistive touch-screen useable like real push button,
for finger-touch, with gloves or pen.

Removeable foil as protection against dust and welding spatter.

LCD-Display with backlight, easy viewable in darkness or sunlight.




Functions and specific features

- Definite button assignment by customized key-symbols.
- Integrated chipcard-slot for data transfer.
- Wireless data transfer via Bluetooth.
- Compatible with all units and programs.


Free Software-Update from our Support-Page.

Touch-Phone Example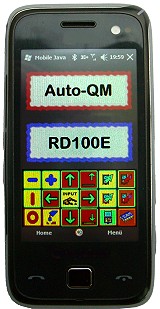 Mobile, wireless Quality-Management-System
"One-Touch-QM" with your mobile phone.



Easiest handling with only one touch, for outdoor-use at workplace.
Data transfer and storage of all welding parameters within less than 10 seconds.
Automatic generation of your work-sheet with all welding-specifications.




Wireless remote control of the welding automate.

- for feed-in welding wire.
- for security shut-down welding power after disturbances.
- for adjustment of torch position, left/right and stick-out.
- for data transfer of new welding data or special welding programs.


Free Software-Update from our Support-Page.

Remote Pendant Control RD100E (Evolution), General Functions

Graphical Display
320*240 Pixel resolution with Touch-Screen (option).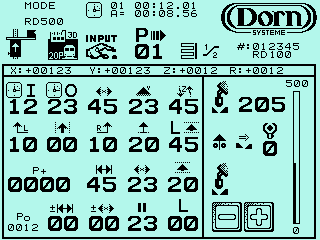 Because of the large display, the units are very flexible. All parameters are shown as symbols which will be changed as needed for the different programs.
For Setup adjustments and after switch-on, a specialized screen will be displayed to ease the work. For input of special rail type at joint welds,
a small drawing of the rail will be indicated yet.

While working, the Statusline shows all positioning coordinates XYZR. At automatically interruption because of errors, the reason will be displayed.
The language for text outputs can be selected to English or German.
Setup Display
... for adjustment of main functions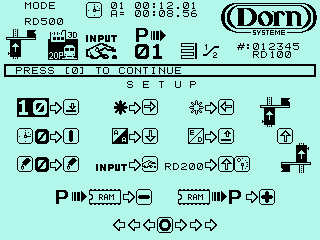 - Set Mode, work in front of unit or behind.
- Cursor blinking / fixed.
- Display lighter / darker.
- RESET time.
- Display normal / invers.
- Language English / German.
- RESET active weld time .
- Fast activate special program Jointwelder/Cutter.
- Set used drive unit, RD200 or RD500.
- Save or load single welding parameters.



- Activate special program SP1-SP3.

- Save or load special program.

- Save or load all welding parameters.

Expanded Setup
... with additional memory functions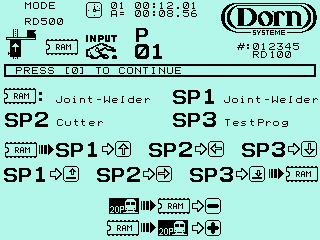 Weaver function 3D-Outliner
... XZ-Contour-Weaver for all Surfaces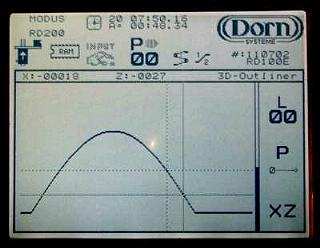 The input of the contoures will be done by setting of Teach-In points
which will be connected by small lines. The more points are used,
the better the adjustment and movement, to follow this line.
At high amount of points, input can be done by data transfer via
RS232, USB-Port or wireless.
At straight lines, to weave with a fixed angle, only two points are
needed and all points between will be interpolated.

- Easy input of variable contoures and angles by Teach-In points.
- Permanent internal memorisation, or flexible on Chipcard .
- For every layer a special contour can be selected.
- X- and Z-axes can be changed for vertical weaving.


Overview Symbols
| | | | |
| --- | --- | --- | --- |
| Symbol | Function | Symbol | Function |
| | Time, days, h, min, sec ; A= aktive time | | Speed CENTER |
| | Program No. 0-20 ; R rail 0-29 | | Distance weaver layers 0-20mm |
| | Start Dwell time 0-2 seconds | | Multi-Areas,  Multi-Layers, Corner, Contour |
| | Stop Dwell time 0-2 seconds | | Working at points,  record,  Area,  Parallel |
| X,Y,Z,R | Position side, forward, height, rotation | | Actual position at point 0-1200, value +- 0-99 |
| | Speed X left/right movement | | Input point 0-1200, value 0-99 |
| | Speed Y forward or reverse | | Amplitude 0-50mm, 0-100mm |
| | Speed Z distance support | | Weaver speed at welding |
| | Speed or Time LEFT | | Input mode, set values with +-, move axis, adjust position |
| | Speed or Time RIGHT | | Wire feeder, Test/Weld/Feed in |
| | Welding power 0-500 Ampere, gun l/r | | Position, Sensitivity of Arc Control 0-9 |
| | Speed R rotation | | Layer distance joint welder |
| | Count down time multi area hard facing | | Counter for layers 0-99 / Contoures 0-19 |
| | Distance upwards after stop dwell (LIFT OFF) | | Patterns, , , , , |
The Teach-In Function
Curved Seam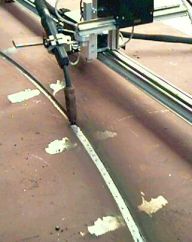 Because of the Teach-In technic, the Remote Pendant Control RD 100 can be used at a lot of different works. Specially at long distance welds, with multiple layers, the work can be done very fast and easy.




The working area is between the first and the last point and the unit allways follows the 0-Line. The points can be set before welding or while working at the first layer. This can be done by hand or the unit measures and memorizes all parameters automatically, at first layer welding. For all following layers, the unit will watch positioning itself.
In addition to X,Y,Z,R coordinates, at every new point a different weaver speed, weaver amplitude and movement at sides can be set. All adjustments between points will be calculated continiously and intercalated.

At surface welds at railway rails, the main part will be worked out with different weaver amplitudes to get an equable welding with less material tension.



...in automatic mode '?'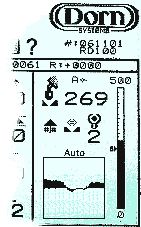 By use of an electric arc control and applications with activated weaver, measurement and positioning is carried out during welding of 1-st layer and is automatically saved for all following layers.

The controlling figure continuously shows the last 64 indicated data.


At works in the line mode, or at welds with low amplitudes, an electromechanical sensor can be used. The measurement occurs in fast speed mode without welding.

The controlling figure shows the current position of the sensor.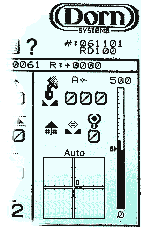 ... for gas cutting with 4 axes
For creating of V-shape seams with up to 30-m length and max. 1200 points, a special cutter program is available. At relatively straight distances the standard device with 3 axes can be used, at sine curves and other curvatures, the optional rotation support is used to turn the gun accordingly of the curve course.
Curvatures are generated by many short straight distances, all distance co-ordinates are interpolated. The more points are used, the accuracy is the higher.
All points can be set by Teach-In, previously automatic scanning, or USB-data transfer.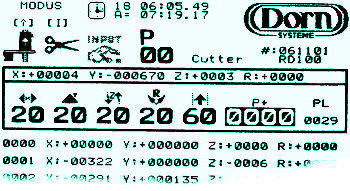 ...with multiple areas at railway rails
For all welds with critical temperature influence on material, multiple working areas should be used. The welding will be done very fast, changing from area to area, to be sure not to fall short of minimum temperature.





...at hard facing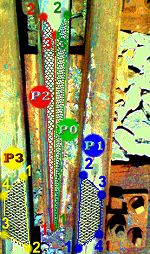 At hard facing with manganese wire, fast layers with small amplitudes are needed. If the welding gets too hot, dwell times are needed, to get a cold work piece. To save time, all needed welding areas can be set by Teach-In points and the unit changes from one area to the next cold one, after every layer.

The form of every area can be different as needed and will be set by up to 6 Teach-In points. The unit calculates the positioning and filling of all welding areas automatically. The welding parameters can be adjusted at up to 20 separate programs, which will be memorized permanently.


...at joint welds with 4 axes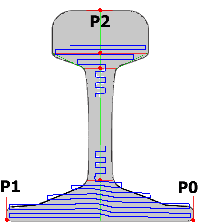 At joint-welds, normally only one point P0 has to be set. All movements will be done automatically and more input is not needed.
In special case point P1 and/or P2 can be set additionally. P1 at different angular cutting and P2, very rare, at contorted mounting of the unit.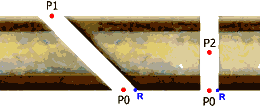 For setting point P0, the torch should be moved above P0 with wire stick out of about 35mm. The rotation-support R should be moved to the right side.
P1 can be set at mid of joint and P2 at mid of rail head.